If want to enable remote RDP protocol for VirtualBox virtual machine , it needs to install VirtualBox extension pack. For gentoo system, it will install VirtualBox extension pack automatically when emerge VirtualBox-bin. But ubuntu is not.
So, if  want ubuntu to support the same function, it need to download extension packet manually.
It can be downloaded here, Download VirtualBox.
After download it, just install it. Then VirtualBox can support RDP function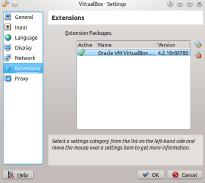 On this day..
Comments
comments
Related posts