This article's procedure was tested in Ampere Altra CPU platform, but suppose that x86 system also can use this procedure.

CentOS 7's gcc is too old to compile Linux kernel 5.x, and it can use another package named "software collections(SCL)" to install newer gcc to build Linux kernel.
Read more »
This is personal notebook for ARM64 performance tuning.
Read more »
htop can support multiple columns in one screen, just press F2 enter setup mode, and change left column and right column to CPUs (1-4/8) [Bar] and CPUs (5-8/8) [Bar]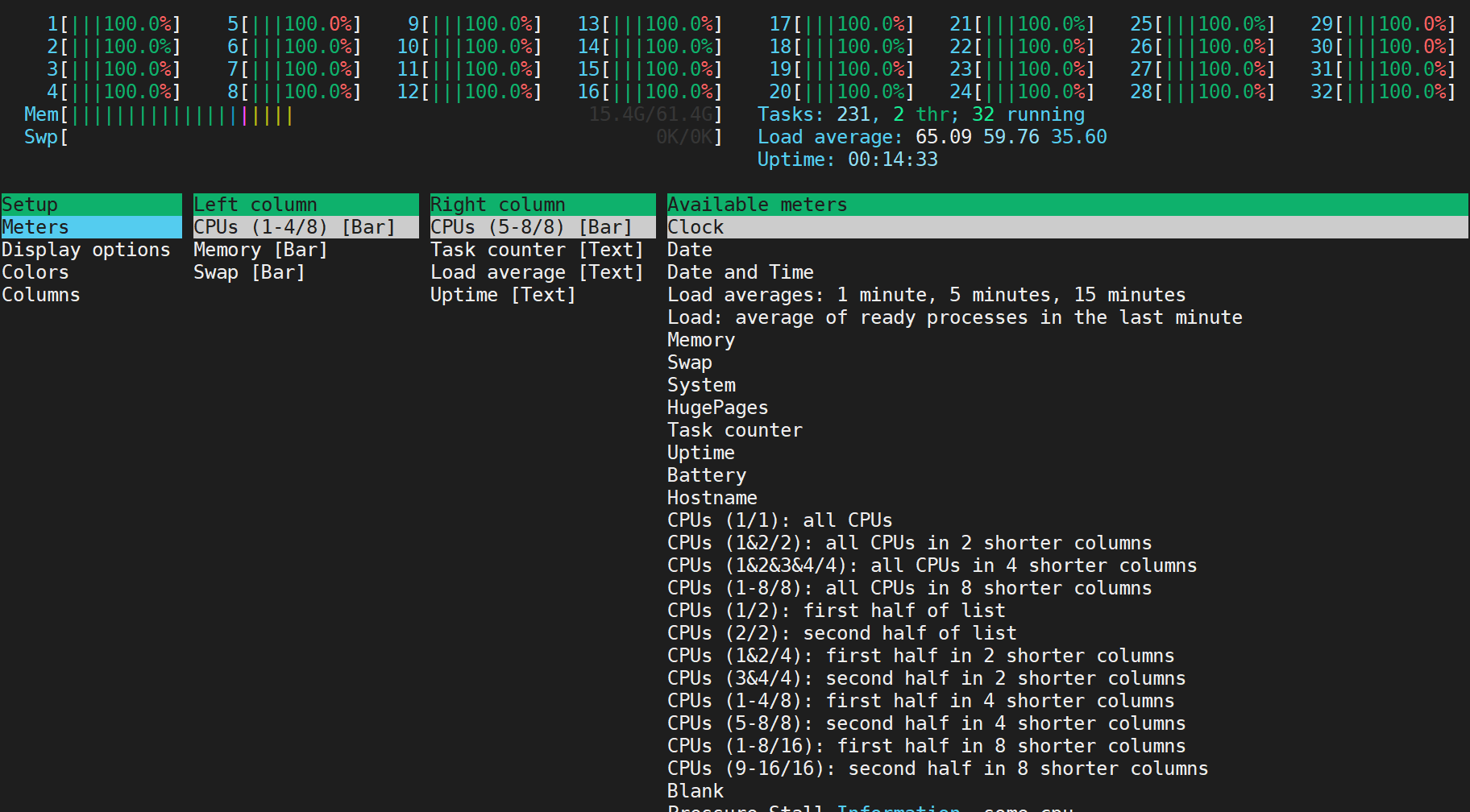 htoprc , put it on /etc/htoprc or ~/.config/htop/htoprc
# Beware! This file is rewritten by htop when settings are changed in the interface.
# The parser is also very primitive, and not human-friendly.
fields=0 48 17 18 38 39 40 2 46 47 49 1
sort_key=1
sort_direction=1
hide_threads=0
hide_kernel_threads=1
hide_userland_threads=0
shadow_other_users=0
show_thread_names=0
show_program_path=1
highlight_base_name=0
highlight_megabytes=1
highlight_threads=1
tree_view=0
header_margin=1
detailed_cpu_time=0
cpu_count_from_zero=0
show_cpu_usage=1
show_cpu_frequency=0
update_process_names=0
account_guest_in_cpu_meter=0
color_scheme=0
enable_mouse=1
delay=15
left_meters=LeftCPUs4 Memory Swap
left_meter_modes=1 1 1
right_meters=RightCPUs4 Tasks LoadAverage Uptime
right_meter_modes=1 2 2 2

這個是我 Intel i350-T4 最近出現的錯誤訊息,是最近 Power 壞掉之後才發生的,錯誤訊息如下
[ 775.510780] igb: Intel(R) Gigabit Ethernet Network Driver – version 5.4.0-k
[ 775.510782] igb: Copyright (c) 2007-2014 Intel Corporation.
[ 775.526676] igb 0000:01:00.0: The NVM Checksum Is Not Valid
[ 775.602407] igb: probe of 0000:01:00.0 failed with error -5
[ 775.617632] igb 0000:01:00.1: The NVM Checksum Is Not Valid
[ 775.693405] igb: probe of 0000:01:00.1 failed with error -5
[ 775.708632] igb 0000:01:00.2: The NVM Checksum Is Not Valid
[ 775.784404] igb: probe of 0000:01:00.2 failed with error -5
[ 775.799632] igb 0000:01:00.3: The NVM Checksum Is Not Valid
[ 775.875410] igb: probe of 0000:01:00.3 failed with error -5
Read more »
果然還是到了這一天,雖然總是有一天他們會看到,但是多多少少還是要設一道簡單的關卡
最簡單的是在路由器上設定 DNS ,畢竟誰都不喜歡在自己的手機電腦裝軟體吧
Read more »
It's not complex to install docker on ARM64 platform and make it work, but it needs a trick
Read more »
如果 Docker 和 QEMU 同時執行時,QEMU 內部透過 tap interface bridge 到 host network 的網路會出不去

這個問題的原因是 Docker 起來之後,會將 iptables 的 packet forward 預設變成 DROP

這時可以在 Docker 起來的時候將 bridge interface 加到 iptables 規則內即可,首先編輯 systemd docker service
Read more »
This is a work note for run x86_64/AM64 on ARM64/AARCH64 server .
Because they are different archeticture, so, run x86_64 on ARM server would be very slow.

and some functions might be different when run on different platform
Read more »