Category Archives:
Computer
It's not complex to install docker on ARM64 platform and make it work, but it needs a trick
Read more »
This document will introduce how to setup a centos PXE boot environment on ubuntu 18.04 for install centos8 to your ARM64 machine.

In this document, it uses CentOS 8 version is 8.1.1911, it might also work on later version if you change file name accordingly . 

all command in this document we assume you already run with root permission. 

Read more »
It's easy. it needs to install helm first and just run following command
helm install \
    --name nginx-ingress stable/nginx-ingress \
    --namespace ingress-nginx \
    --set rbac.create=true \
    --set controller.image.repository="quay.io/kubernetes-ingress-controller/nginx-ingress-controller-arm64" \
    --set defaultBackend.image.repository="k8s.gcr.io/defaultbackend-arm64"

ref.
https://github.com/kubernetes/ingress-nginx/issues/4876
https://github.com/kubernetes/ingress-nginx/pull/3852
Backup for mysalves
network:
  version: 2
  renderer: networkd
  ethernets:
    enP6p1s0:
      dhcp4: no
  bridges:
    br0:
      dhcp4: no
      interfaces:
         - enP6p1s0
      addresses: [192.168.110.254/16]
      gateway4: 192.168.1.1
      nameservers:
              addresses: [8.8.8.8,8.8.8.4]
      dhcp4: no

There is no regular ARM64 support for Linkerd2 now.

So, I built one for test.
All necessary packages will be downloaded from my private docker.io account. not from regular linkerd2 repository.

Linkerd2 version is master version between v2.6.0 and next version
emojivoto version is v9 (master version)
Read more »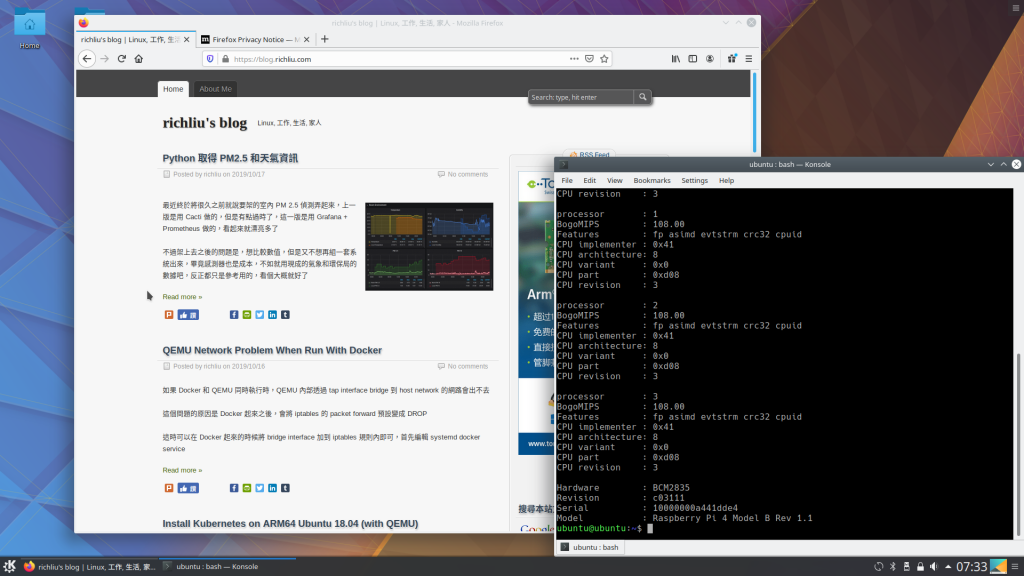 買了二塊 Raspberry 4 Pi 回來,本來是準備裝 K8s 的,但是在這之前要先跑個 ubuntu image 才對.

我買 Raspberry 4 Pi 的時候知道他要用 5V3A 的電源,但是我沒有想到我自己沒有 5V3A 的 USB 變壓器,手機用的含 Apple 87W USB-C 變壓器都不足瓦
Apple 87W 只能輸出 5V 2.4A
最後找了一個 Sony 可以輸出 5V 2.7A 才可以用,所以如果要買 Raspberry Pi 4 的人請注意一下

另外這一塊的外接是 Micro-HDMI,我也忘了買,記得還要加買 SD Card
Read more »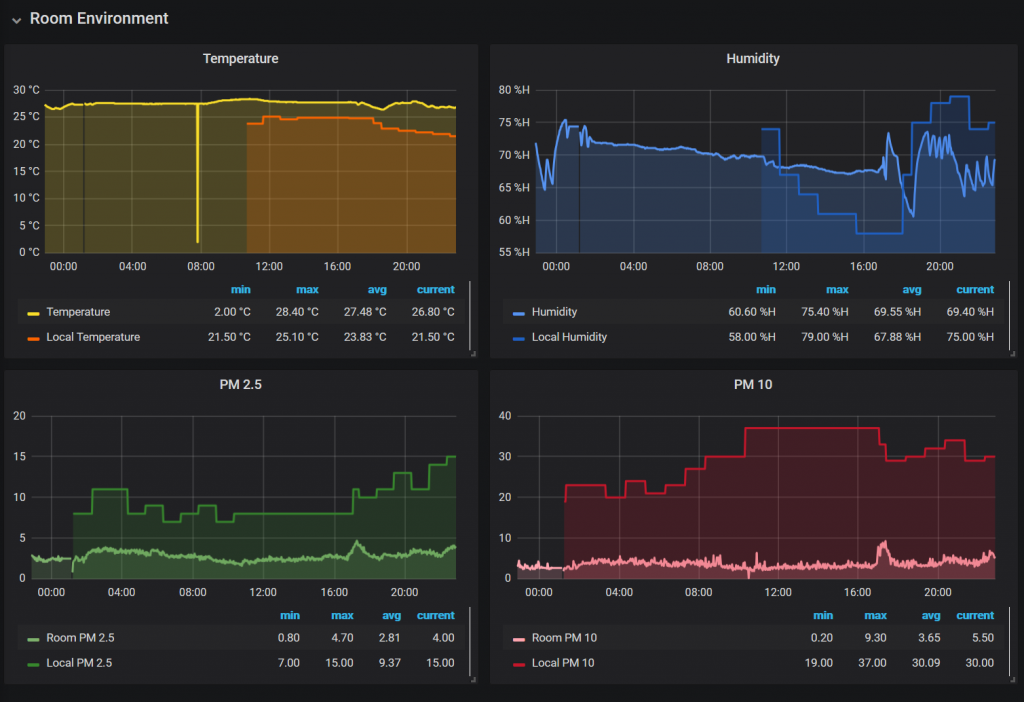 最近終於將很久之前就說要架的室內 PM 2.5 偵測弄起來,上一版是用 Cacti 做的,但是有點過時了,這一版是用 Grafana + Prometheus 做的,看起來就漂亮多了

不過架上去之後的問題是,想比較數值,但是又不想再組一套系統出來,畢竟感測器也是成本,不如就用現成的氣象和環保局的數據吧,反正都只是參考用的,看個大概就好了

Read more »
如果 Docker 和 QEMU 同時執行時,QEMU 內部透過 tap interface bridge 到 host network 的網路會出不去

這個問題的原因是 Docker 起來之後,會將 iptables 的 packet forward 預設變成 DROP

這時可以在 Docker 起來的時候將 bridge interface 加到 iptables 規則內即可,首先編輯 systemd docker service
Read more »