This article's procedure was tested in Ampere Altra CPU platform, but suppose that x86 system also can use this procedure.

CentOS 7's gcc is too old to compile Linux kernel 5.x, and it can use another package named "software collections(SCL)" to install newer gcc to build Linux kernel.
Read more »
This is personal notebook for ARM64 performance tuning.
Read more »
這個也是怪自己,最近因為 Windows VM 不知道為什麼速度變很慢,所以改用 Linux 跑 VM ,雖然 Linux 下 VM 速度比 Windows 快,但是整體的感覺還是慢.本來以為是我的 i5-9600k VM 表現不好,但是看著 CPU utilization 感覺還是怪
Read more »
不知道是不是公司控管電腦的問題,我公司的電腦一直沒辦法存取 Samba 的目錄

今天終於下定決定找一找可能是什麼問題
Read more »
If CPU number is too much, compile qtwebengine will fail, seems ninja compile issues.
it better to reduce CPU number under 8, batter number is 4 or 6.
just put MAKEOPTS="-j 4″ on your /etc/portage/make.conf
It can be roll back after compile qtwebengine.
modify package.env can support special MAKEOPTS command on some packages.
ex:
echo "dev-qt/qtwebengine lowcpu.conf" | sudo tee -a /etc/portage/package.env
mkdir -p /etc/portage/env
echo "MAKEOPTS=\"-j4\"" | sudo tee /etc/portage/env/lowcpu.conf
ref.
[SOLVED] emerging qtwebengine-5.7.1
Memory problems on QtWebEngine build
htop can support multiple columns in one screen, just press F2 enter setup mode, and change left column and right column to CPUs (1-4/8) [Bar] and CPUs (5-8/8) [Bar]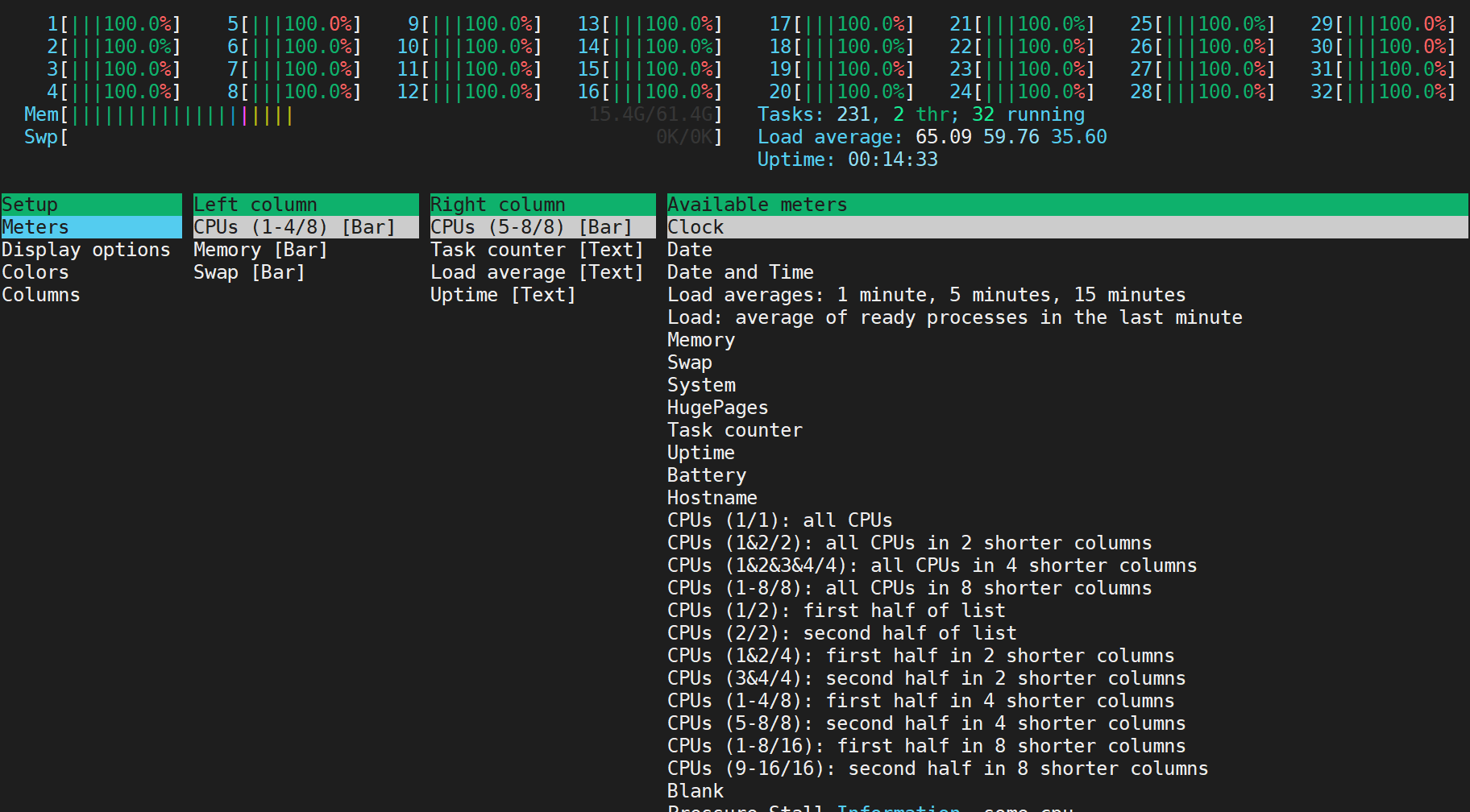 htoprc , put it on /etc/htoprc or ~/.config/htop/htoprc
# Beware! This file is rewritten by htop when settings are changed in the interface.
# The parser is also very primitive, and not human-friendly.
fields=0 48 17 18 38 39 40 2 46 47 49 1
sort_key=1
sort_direction=1
hide_threads=0
hide_kernel_threads=1
hide_userland_threads=0
shadow_other_users=0
show_thread_names=0
show_program_path=1
highlight_base_name=0
highlight_megabytes=1
highlight_threads=1
tree_view=0
header_margin=1
detailed_cpu_time=0
cpu_count_from_zero=0
show_cpu_usage=1
show_cpu_frequency=0
update_process_names=0
account_guest_in_cpu_meter=0
color_scheme=0
enable_mouse=1
delay=15
left_meters=LeftCPUs4 Memory Swap
left_meter_modes=1 1 1
right_meters=RightCPUs4 Tasks LoadAverage Uptime
right_meter_modes=1 2 2 2

My notebook with RTX3060 has this issue after do something I don't know. OS is Ubuntu 18.04

Everything is ok after first time install RTX3060, there is no high cpu issue, but after install IME(gcin), nomachine and anydesk and do something I don't remember, plasma high cpu usage issue happened.
Read more »
這個是我 Intel i350-T4 最近出現的錯誤訊息,是最近 Power 壞掉之後才發生的,錯誤訊息如下
[ 775.510780] igb: Intel(R) Gigabit Ethernet Network Driver – version 5.4.0-k
[ 775.510782] igb: Copyright (c) 2007-2014 Intel Corporation.
[ 775.526676] igb 0000:01:00.0: The NVM Checksum Is Not Valid
[ 775.602407] igb: probe of 0000:01:00.0 failed with error -5
[ 775.617632] igb 0000:01:00.1: The NVM Checksum Is Not Valid
[ 775.693405] igb: probe of 0000:01:00.1 failed with error -5
[ 775.708632] igb 0000:01:00.2: The NVM Checksum Is Not Valid
[ 775.784404] igb: probe of 0000:01:00.2 failed with error -5
[ 775.799632] igb 0000:01:00.3: The NVM Checksum Is Not Valid
[ 775.875410] igb: probe of 0000:01:00.3 failed with error -5
Read more »