This is personal notebook for ARM64 performance tuning.
Read more »
If CPU number is too much, compile qtwebengine will fail, seems ninja compile issues.
it better to reduce CPU number under 8, batter number is 4 or 6.
just put MAKEOPTS="-j 4″ on your /etc/portage/make.conf
It can be roll back after compile qtwebengine.
modify package.env can support special MAKEOPTS command on some packages.
ex:
echo "dev-qt/qtwebengine lowcpu.conf" | sudo tee -a /etc/portage/package.env
mkdir -p /etc/portage/env
echo "MAKEOPTS=\"-j4\"" | sudo tee /etc/portage/env/lowcpu.conf
ref.
[SOLVED] emerging qtwebengine-5.7.1
Memory problems on QtWebEngine build
This is not a detail guide to describe how to full install system, just figure out some important point. Even not for Gentoo newbie.

Most important handbook is Gentoo AMD64 installation guide.
There is some different between ARM64 and AMD64

2021/08/31 Updated : No more need Ubuntu ISO image, ARM64 EFI minimal ISO can be download from official website: https://www.gentoo.org/downloads/
Read more »
This document will introduce how to setup a centos PXE boot environment on ubuntu 18.04 for install centos8 to your ARM64 machine.

In this document, it uses CentOS 8 version is 8.1.1911, it might also work on later version if you change file name accordingly .

all command in this document we assume you already run with root permission.

Read more »
It's easy. it needs to install helm first and just run following command
helm install \
    --name nginx-ingress stable/nginx-ingress \
    --namespace ingress-nginx \
    --set rbac.create=true \
    --set controller.image.repository="quay.io/kubernetes-ingress-controller/nginx-ingress-controller-arm64" \
    --set defaultBackend.image.repository="k8s.gcr.io/defaultbackend-arm64"

ref.
https://github.com/kubernetes/ingress-nginx/issues/4876
https://github.com/kubernetes/ingress-nginx/pull/3852
There is no regular ARM64 support for Linkerd2 now.

So, I built one for test.
All necessary packages will be downloaded from my private docker.io account. not from regular linkerd2 repository.

Linkerd2 version is master version between v2.6.0 and next version
emojivoto version is v9 (master version)
Read more »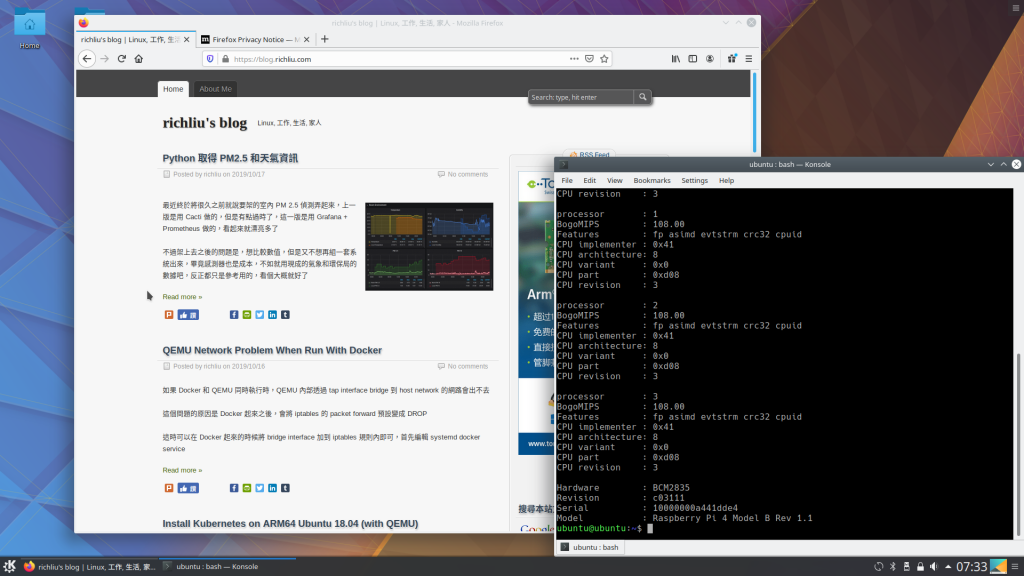 買了二塊 Raspberry 4 Pi 回來,本來是準備裝 K8s 的,但是在這之前要先跑個 ubuntu image 才對.

我買 Raspberry 4 Pi 的時候知道他要用 5V3A 的電源,但是我沒有想到我自己沒有 5V3A 的 USB 變壓器,手機用的含 Apple 87W USB-C 變壓器都不足瓦
Apple 87W 只能輸出 5V 2.4A
最後找了一個 Sony 可以輸出 5V 2.7A 才可以用,所以如果要買 Raspberry Pi 4 的人請注意一下

另外這一塊的外接是 Micro-HDMI,我也忘了買,記得還要加買 SD Card
Read more »